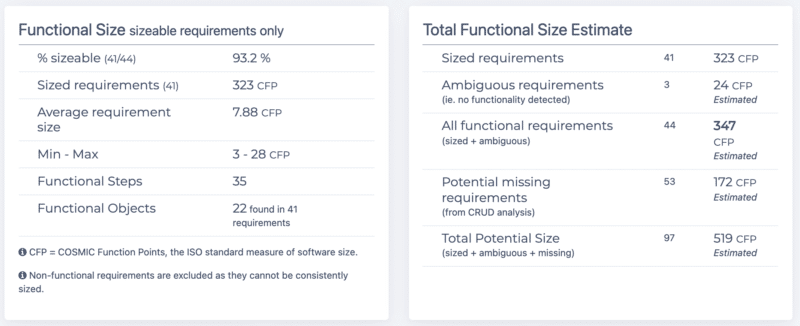 Software Sizing – Automated
Function points are the best known means of sizing software.  Knowing the size of your software is crucial to effective management of it.  Whether you are considering maintenance, new developments, enhancements, insourcing or outsourcing.  Effective software management is made so much easier if you have a consistent reliable measure of size.  This is the problem that ScopeMaster resolves.
Functional Intent Detected
ScopeMaster examines the phraseology of all written user stories or requirements in order to determine the functional intent.  It does this faster than humans can typically read the requirements.   What it exposes is an interpretation of the functionality described in the user story.  Whilst not the only interpretation, it is the most likely one.
Consistent and Reliable
ScopeMaster's analyser generates consistent sizing results.  With the same text input, it will always give the same result.  This consistency is essential.
From Text to Function Points
ScopeMaster runs layers of successive analysis in order to determine the functional size from the functional intent.  The functional size results are available as COSMIC Function Points, or as IFPUG Function Points.  (The former is more accurate).
Technology Agnostic
The functional size of the software is a user oriented perspective.  It is agnostic of the implementation or technology used to achieve the functionality.
Estimates the Ambiguous Requirements
Some requirements use ambiguous language, language that does not have clear functional meaning.  ScopeMaster attributes and estimated size to those ambiguous requirements.
Estimates the Missing Requirements
ScopeMaster® examines the set of requirements looking for potential duplicates and missing requirements.  It is able to automatically estimate the number and size of the missing requirements, so you know how big your project is likely to be.