The Story Analyser for Jira is an app designed specifically for Jira users that exposes the incredible power and value of the ScopeMaster engine, without needing to leave the Jira experience.   Without leaving Jira, you can have your stories analysed and tested effortlessly.  The Story Analyser App stimulates critical thinking about your user stories, so you enter each sprint with higher quality stories.
ScopeMaster detects the functional intent,
estimates the story size in ISO standard COSMIC function points,
performs hundreds of tests and reports potential problems,
generates baseline functional tests.
In just a few minutes you can be running hundreds of tests and getting instant feedback on the quality of your user stories.  Story Analyser for Jira will do much of the hard analysis work, checking, cross-referencing and even sizing your user stories before you have even started writing code.


CRUD Analysis – automated
ScopeMaster® Story Analyser for Jira now automatically generates a CRUD analysis so you can discover those (potentially) missing user stories.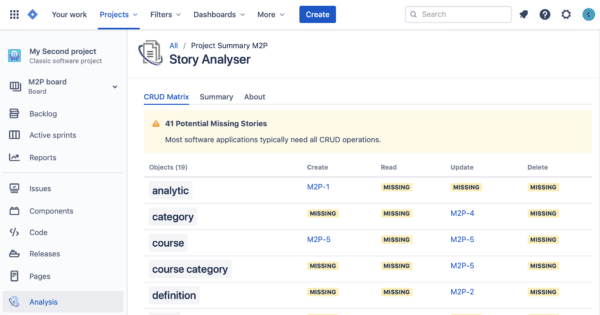 Ultimate in Shift Left Testing
Early testing of user stories by ScopeMaster reduces wasted effort on all software endeavours.  Because it performs hundreds of dynamic tests – and in some cases thousands of dynamic tests – on each user story, it drives quality early.  It checks for adherence to 9 quality attributes including consistency, clarity, duplications and even finds missing stories.
reduces rework
reduces risk
improves quality
reduces effort
improves test coverage
Expect to achieve at least 5% effort reduction on development AND 5% shorter schedules, and an ROI of 10x or better.
Alternative Options for Jira Users
ScopeMaster can link with Jira in different ways,  find that way that suits you.   If you are a Jira cloud user, we offer an option to use ScopeMaster Story Analyser App from the Jira Mareketplace.
| Integration Option | Details | Works with |
| --- | --- | --- |
| Story Analyser for Jira Cloud | Most of the benefits of ScopeMaster without having to leave Jira | Jira Cloud only |
| ScopeMaster's built-in Synchronsizer | Control the synchronisation of user stories between ScopeMaster and Jira –  project by project. | Jira Cloud, Azure Devops and Pivotal Tracker |
| CSV import/export | ScopeMaster allows for convenient import and export via CSV | Any tool that can handle CSV files. |
| Third party integration tools | Use tools such as ConnectAll to manage and tune the synchronisation between ScopeMaster and your requirements repository | Any tool that has a REST API including Jira Server and Jira Data Center |
| Create your own with the ScopeMaster REST API | Create a custom integration including embedding ScopeMaster into a CI/CD routine. | Any tool that has a REST API including Jira Server and Jira Data Center |