Test Generation – Direct From User Stories
30th July 2019,  Innovative software requirements analyser, ScopeMaster announces today that its software tool can now perform instant test generation directly from written requirements – a world first!
ScopeMaster is a tool for software teams, helping to solve the problems caused by poor requirements. It intelligently interprets written software stories to identify potential problems, eliminate ambiguities and to estimate size.  And now it also performs test generation, creating valid positive and negative test scenarios directly from requirements.  It does all of this in a few seconds.   Software teams will save time enabling them to to deliver faster, better and cheaper software.
With an ever greater demand and dependency upon software, rapid high quality development is crucial.  Functional testing is an essential aspect of software quality assurance and takes place on all software projects.  It involves following a series of  tests and checks of the newly developed software.  Testers typically write such scripts by hand while the software is developed and subsequently test against them to ensure that the software works correctly.  Functional tests are performed to check that the code does what it should (positive tests) and that it doesn't do what it shouldn't (negative tests).  Functional testing often absorbs 20%-40% of the total time and effort of the project.  Designing functional tests typically costs about 1 – 3% of the total cost of development (circa $4Bn each year to US organisations).  Now with the help of ScopeMaster, this time and effort to produce baseline functional test scenarios is significantly reduced.
Test Generation – creates traceable test scenarios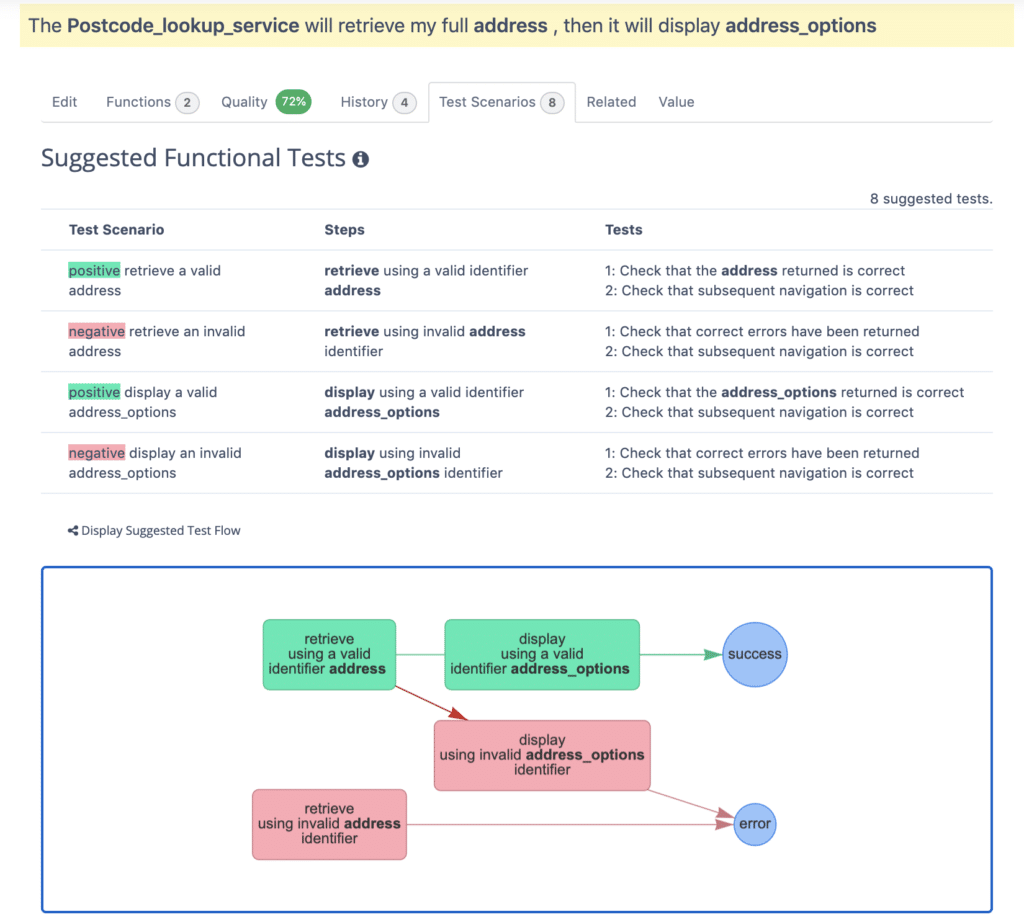 Ensure Adequate Test Scenarios
If you are involved with DO-178 , the avionics standard for requirements traceability, this feature os ScopeMaster may help you identify potential missing test cases.  Similarly NQA-1 in the nuclear industry and ISO 26262 ASIL (Automotive Integrity Safety Level) for the automative industry. Finding missing tests, missing requirements can be like seeking a needle in a haystack. Why not let automation help you.  Rather like a detective, it may or may not find something critical, but it's sure worth a try.
100% Traceability
The test scenarios generated by ScopeMaster are based on the interpretation of the user stories, therefore they are 100% aligned to the words that have been used to describe the functionality in user terms.   The generated test scenarios are all 100% aligned to user requirements – always.
If ScopeMaster finds just one or two potential missing requirements or missing test scenarios, then it may have solved a big problem.
Export Generated Test Scenarios
ScopeMaster allows you to export the full suite of hundreds or even thousands of generated tests directly into your test management tool.  They are also in a format compatible with most test management tools including HP/Micro focus ALM and X-Ray.
About ScopeMaster
ScopeMaster is the brainchild of Colin Hammond and a team of software industry veterans  who, with collectively over 1000 projects, understand the challenges of large-scale software.  Unlike any other software development tool, it uses AI to understand the meaning of the text of requirements or agile user stories.  By so doing, it helps teams improve the quality of their requirements early and to ensure that they are adequately checked. Driving quality into software work as early as possible is a practice known as "shift-left testing". Until today, automation of requirements analysis has been a thoroughly neglected area of the software development arena. Now with ScopeMaster teams can achieve higher quality and greater certainty even before the first line of code is written with "the ultimate in shift-left testing".
ScopeMaster is the world's first software requirements analyser that delivers three key benefits to software teams:
Better quality requirements – it helps you find and fix defects before coding,
Reliable size estimates using ISO standard metrics, for greater predictability; and now it also
Auto-generates functional test scenarios.
Combining these three benefits can help organisations reduce software project effort by up to 25% and simultaneously reduce the risk of project overruns and failures.
ScopeMaster's ability to estimate functional size helps reduce software costs with more accurate estimates.  This has recently caught the attention of the world's largest buyer of software, the US government.
The bigger picture
Nowadays, organisations rely on rapid software innovation to remain competitive.  The organisations across all sectors that successfully implement high quality software innovations are more likely to succeed over their competitors.  With ScopeMaster higher quality software can be achieved faster than ever before.
Test drive
You can try ScopeMaster for free for 7 days and test your organisation's user stories and experience "the ultimate in shift-left testing".
ScopeMaster Ltd is a technology start-up based in Marlow, UK, whose goal is to help organisations achieve faster, better, cheaper software development through the use of proven techniques including the innovative ScopeMaster tool.  Visit https://www.scopemaster.com to find out more.
From
https://www.briefingwire.com/pr/scopemaster-announces-a-world-first-functional-test-creationdirectlyfrom-software-requirements