Hyperautomate your software requirements analysis work with the award-winning tool for tough projects: ScopeMaster® the requirements analyser for serious software professionals
The ScopeMaster® Requirements Analyser:
reads the requirement,
detects the functional intent,
detects ambiguities and 8 other defect types,
suggests improvements,
suggests missing requirements,
compares with other requirements,
determines functional size,
creates project estimates,
generates functional test scripts.
ScopeMaster requires no setup. Just import and click the analyse button.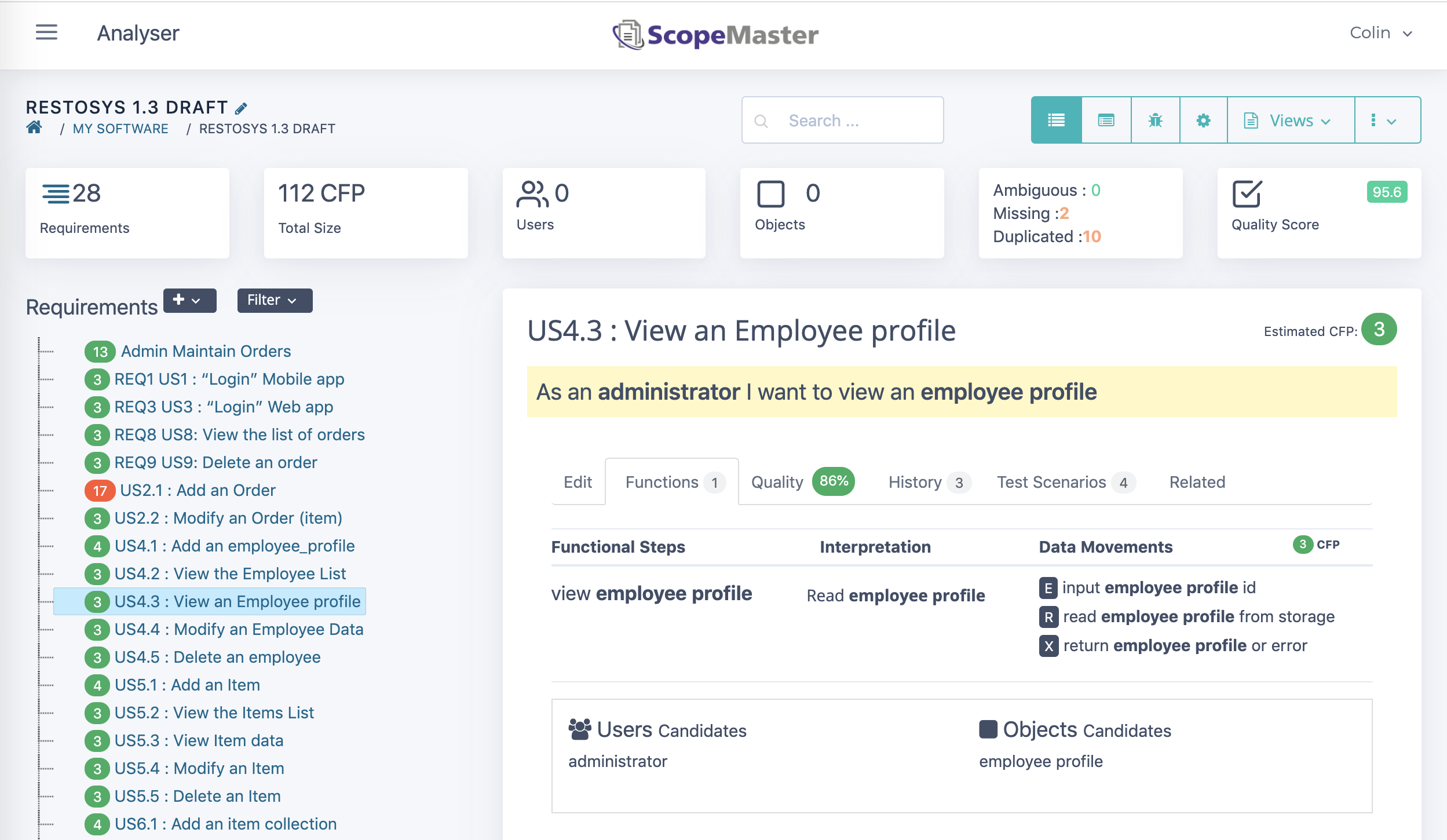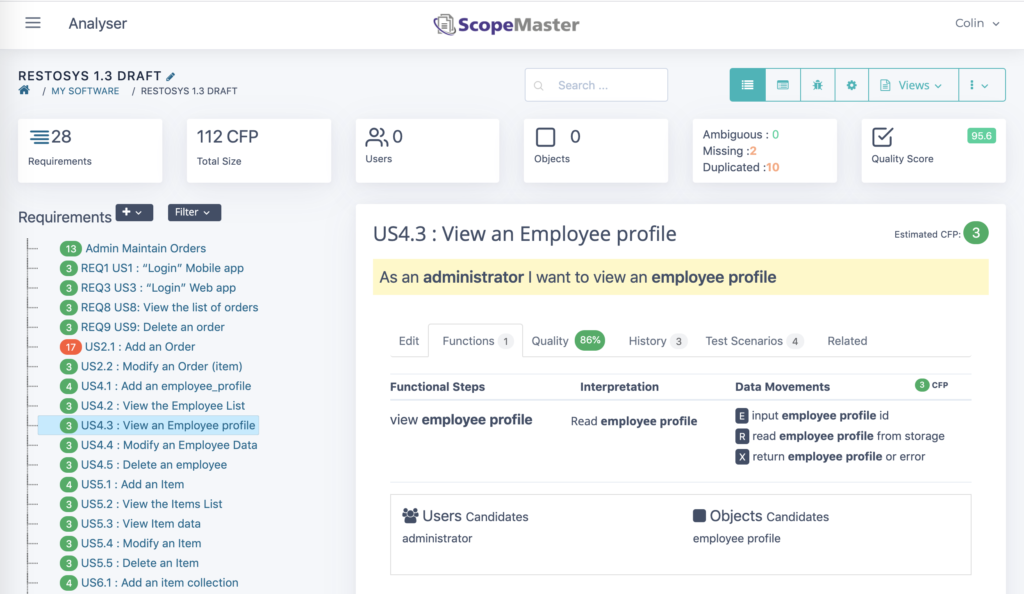 Automated Requirements Quality Testing
Our automated static and dynamic tests scrutinise your requirements as you write them giving you realtime advice and suggestions on how to improve your requirements quality. It's like having experts reviewing all your requirements every time. In fact many of the tests we run are recommended by the world's leading requirements engineering experts.
Ideal for Business Analysts, Product Owners, QA leads, Test Managers
Instant Insight
Software managers can enjoy instant visibility into the complexity and cohesion of requirements. With ScopeMaster these powerful use case model diagrams are generated instantly, allowing you to visualise the meaning of your user stories in real time.
Ideal for Product Ownership, Development and Business Analysis.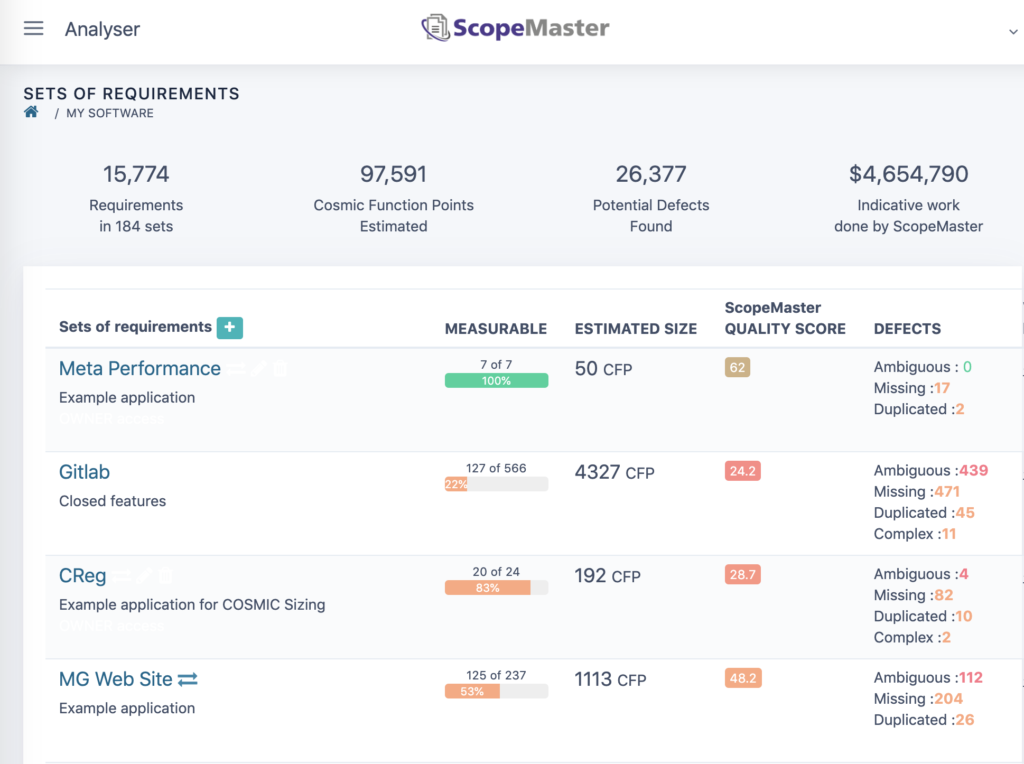 Foresight
Software managers can enjoy instant visibility and foresight into the quality and size of requirements.  With ScopeMaster, there is no reason to start a project with half-baked requirements.  Our unique quality score makes it easy to ensure your requirements are up to scratch.
Ideal for Business Analysts, Software managers, PMO leaders and project managers. 
Know the Size
ScopeMaster uniquely performs fully automated requirements analysis to detect the functional size from the text of the user stories.  This is known as automated functional sizing.  ScopeMaster provides estimates in both of the leading ISO standards COSMIC and IFPUG.
 Know the size:
before –  to plan effectively
during  –  to prioritise and manage progress
after  –  to benchmark ready for the next project
Ideal for Project Managers, Software Executives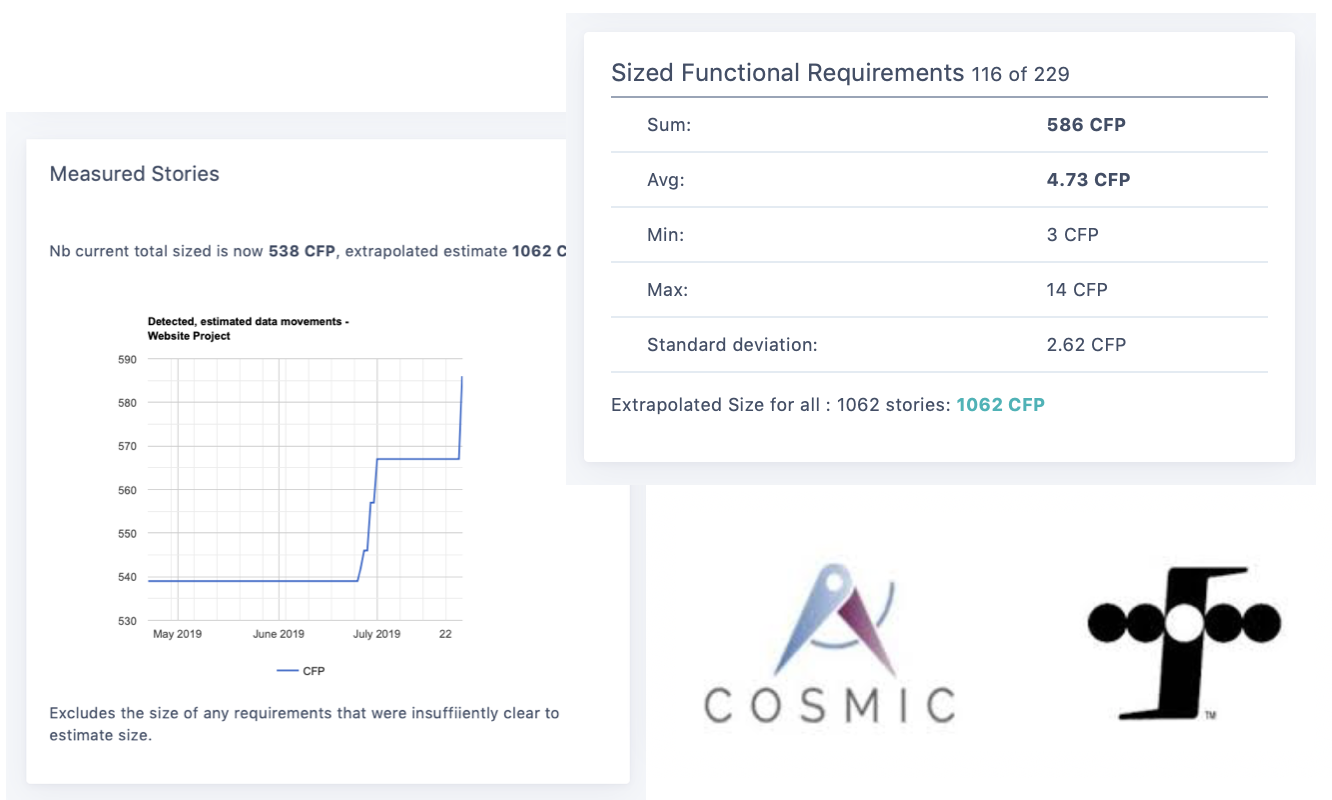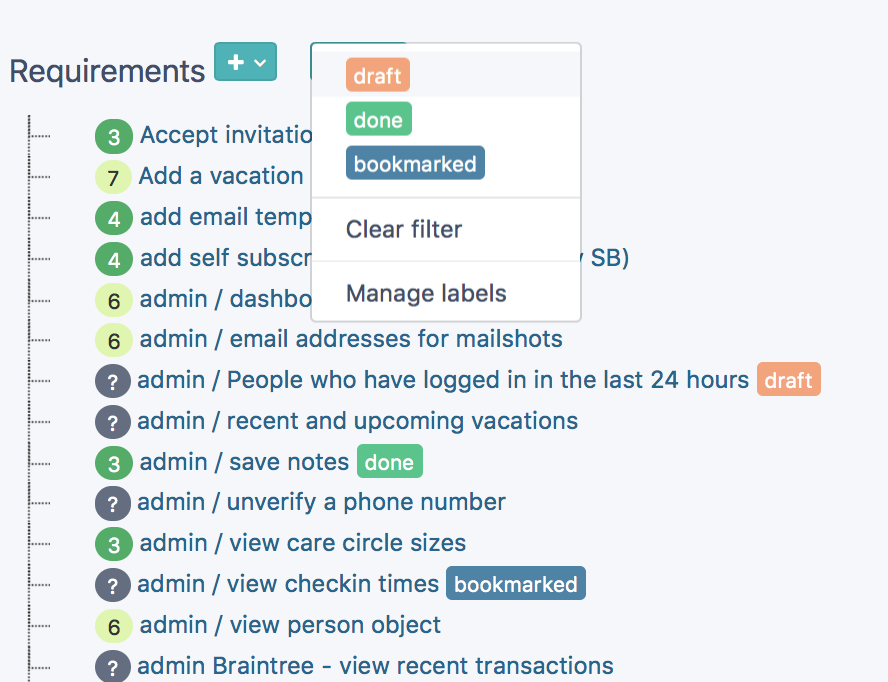 Easy and Fun to Use
Never before has the onerous work of writing good quality software requirements been so much fun. We have also tried to make it fun to achieve 100% score every time.
Choose your language
English
Spanish
Portuguese
French
Italian
Dutch
Write your user stories in any one of these languages and ScopeMaster will analyse them: detect users, detect objects, determine functional intent,  identify potential defects and estimate the functional size in COSMIC Function Points.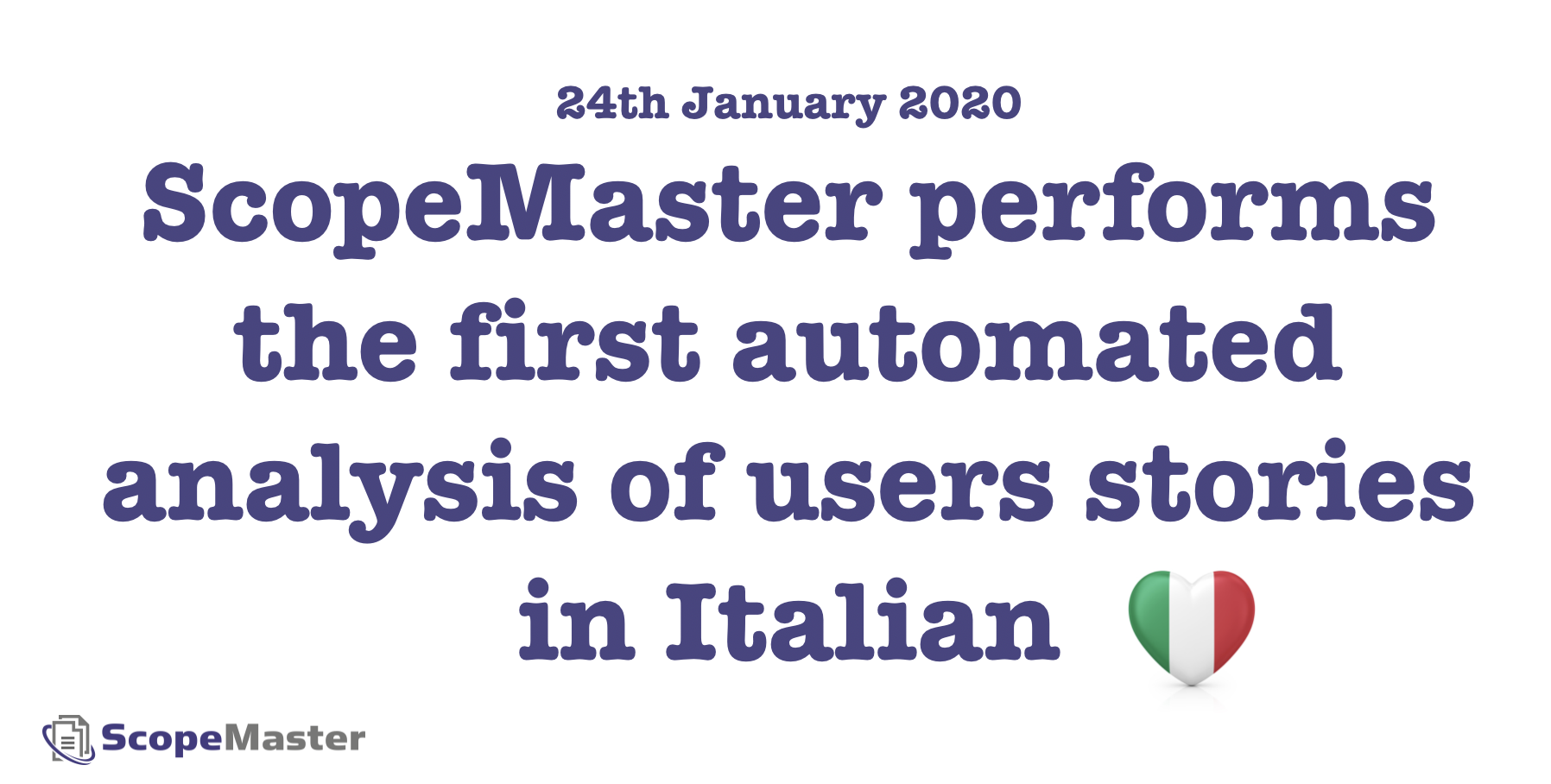 Incredible benefits from day 1 of using ScopeMaster
Benefits
.
Better quality user stories / requirements
Better documentation
More productive requirements meetings
Monitor scope evolution
Fewer change requests
Less rework
Shorter delivery schedule
Expect to achieve
.
Higher quality software
Immediate benefits
Minimal disruption to the team
Encourages a quality-centric focus in your team.
Better cost and schedule estimates for your software development projects
Requirements Analyser – QA automated
Boring stuff – made easier