Software Requirements Quality
Requirements quality is a matter of some discussion amongst software requirements professionals.  Here are four considered views on software requirements quality, that is what makes for a good requirement or a good set of requirements.
There is no single standard for what makes up a good quality software requirement.  Furthermore, what may be considered a good requirement for application software will likely differ from a good systems software requirement.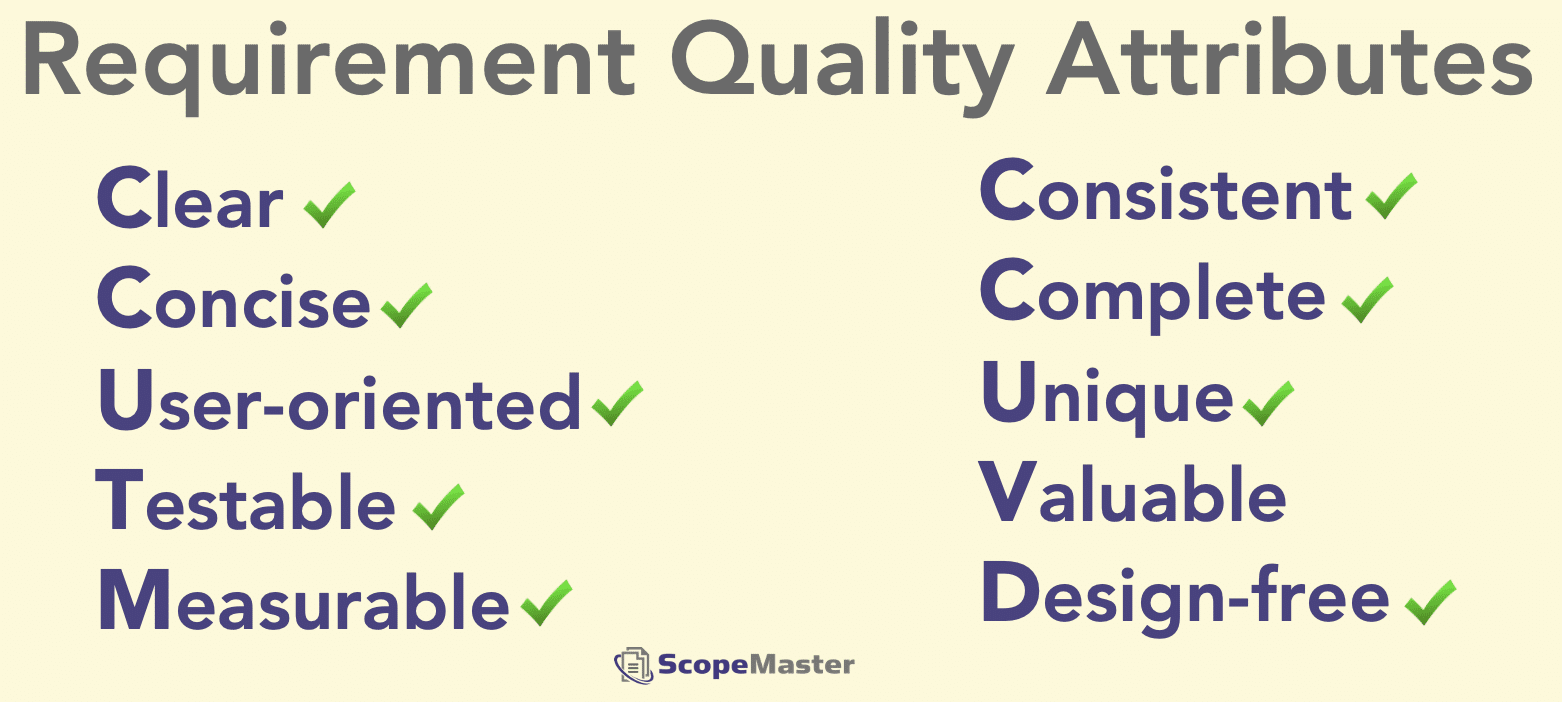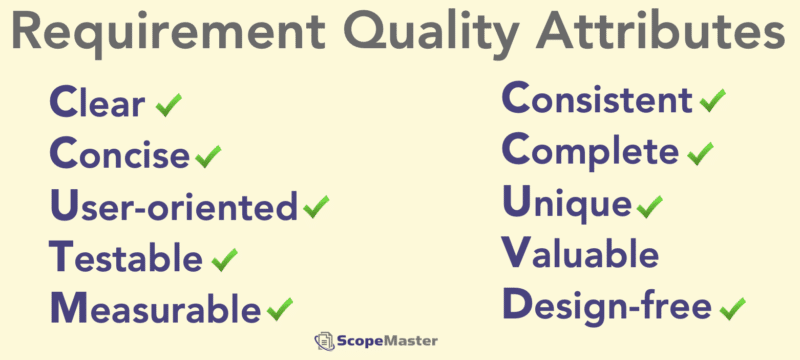 Automated Requirements Quality Assurance
ScopeMaster tests requirements.  Like SonarQube for requirements, ScopeMaster examines each requirement (or user story) to detect the functional intent and assesses each requirement against the quality criteria listed above.  It cannot detect all the faults,  but it can find about 50% of them.  Once it has analysed the requirements individually, it then examines the requirements in the context of the set of requirements.  This is provides insight that is just not possible with tools like Jira and Azure DevOps, ScopeMaster interprets and analyses requirements, it doesn't just store them.  This frees up your time to consider other important aspects of your requirements.  It makes your job of improving the requirements quality faster and easier.  It does the hard work for you.

In the table shown, the columns mean:
The quality score of the individual requirement (with some consideration for context) test for 350+ words, phrases and linguistic patterns for clarity.
Clear & Functional Contains unambiguous statement(s) of functionality (description of data movements) .
User-oriented A user is identified as the subject within the requirement,  performing an action with data.
Concise the ratio of words to functional size, within reasonable boundaries
Measurable & testable If functional intent is detected, then it is measurable and testable, again we are determining if there was clear functional intent.
Complete (within the set) means object types that are identified within this requirement found to have complementary CRUD actions to ensure a complete set of maintenance activities across the set of requirements.
Complete (buried functionality) functionality detected in the notes/acceptance criteria that should have been in the requirement itself.
Benefits Has there been an effort to describe the benefits or value of this requirement.
Quality Scoring
ScopeMaster recognises that requirements do not exist on their own.  It understands the context of a set of a requirements and so it determines quality scores at two levels:
Quality score for each individual requirement
Quality score for a set of requirements
ScopeMaster performs hundreds of static and potentially thousands of dynamic tests on each requirement and gives the author immediate feedback.  So you learn to write better requirements as you go.